New Online Ordering System Returns Agency to Shoppers
A new online ordering system at The Open Door has expanded choice more than ever before for client shoppers.
SmartChoice™ at The Open Door launched this June and allows clients to place a weekly grocery order that matches any special dietary needs they may have as well as their taste. Expanded choice ensures people get the food they need for their families while reducing food waste.
"Now we can pick and choose," said Ann, age 65, a retired teacher who is gluten-free, lactose intolerant and has high cholesterol. "It's amazing. It's so much better. So far, it's a godsend!"
Ann stopped working six years ago to care for her husband, Edmund, age 70, who has many medical conditions and was diagnosed with Stage 4 cancer during the pandemic.
"If it wasn't for them feeding us, because of our expenses, we'd be hungry," she said of The Open Door.
Each week, Ann uses fresh vegetables from her grocery order to make meals that work for both of their diets.
"When people choose their own groceries, we know they're getting the food they'll eat and enjoy to thrive," President and CEO Julie LaFontaine said. "We're proud to have this new resource for our clients."
Before the online ordering system became available, The Open Door provided bags of pre-selected groceries for clients starting in March 2020 in response to the pandemic. This was done through a Curbside, No-Contact model used at both the Gloucester and Ipswich food pantries, and protected the health and wellbeing of clients, volunteers, and staff alike while also expanding the nonprofit's capacity to meet increased need. While the curbside model was necessary to feed more people, it left shoppers with less personal choice.
At the height of the pandemic, The Open Door met a 40% increase in need for food resources and continues to meet ongoing need.
Today, clients are still picking-up their groceries at either site or receiving deliveries if they qualify for The Open Door grocery and meal delivery program. However, SmartChoice™ at The Open Door brings more choice to the table than ever before. It accounts for every item available in The Open Door's inventory, working seamlessly in partnership with the warehouse. Grocery orders are managed by the Fulfillment Center, where staff and volunteers package grocery orders Monday through Friday.
Translation services are available over the phone with multiple languages available. Those without internet access, with questions, or who prefer to place their order by phone are also welcome to do so by calling 978-283-6776. 
New shoppers and those returning to The Open Door after two or more years can make a profile at our website in order to log into the new online ordering system. New profiles will be reviewed and approved in approximately one business day, and once approved shoppers can begin an order here.
To view Frequently Asked Questions about SmartChoice ™ at The Open Door, click here. 
Those making an online order will follow a user-friendly, color coded menu to select grocery items from categories including featured items, fruit and juice, vegetables, protein and dairy, ready to eat options, grains and cereals and a miscellaneous "other" category including items such as items for infants, special dietary items, pet supplies, hygiene products, household products, baking, snacks, condiments and more.
Once a full choice order is complete, shoppers can include a pick-up time at either the Gloucester or Ipswich pantry. Pickup times may be as soon as the next day, but shoppers are asked to review the pick-up schedule below for both pantries to plan ahead: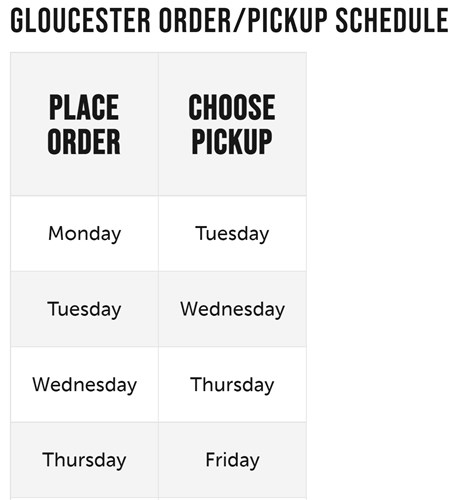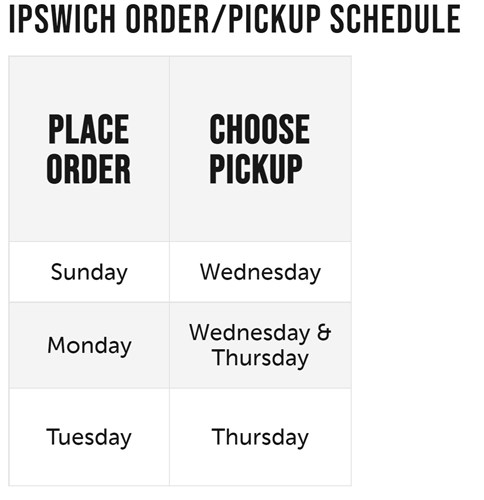 Please note: pick-up appointments may fill up for a given day and are available on a first-come, first-served basis. Choose the next available, convenient time for you to pick up your order. If you need food ASAP, pre-packed emergency groceries with kitchen stapes are available for pick-up. Emergency groceries limit choice however, and orders must be placed in advance online or by phone for access to our full inventory.
Those with questions are encouraged to call The Open Door at 978-283-6776. If you need food immediately, please give us a call or come directly to our Gloucester or Ipswich pantry during business hours to receive basic grocery supplies for the week. Please note: if you can wait 1-3 business days to pick-up your order and place an order online, you will have a broader range of choices available to you for your order.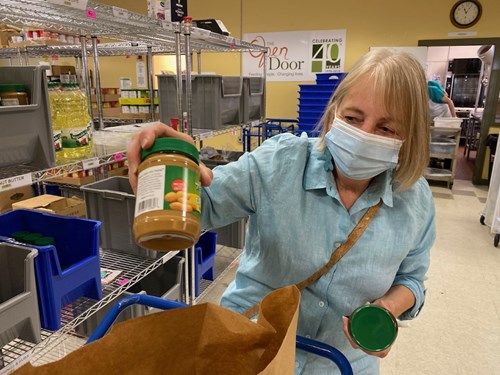 Volunteer Laurie Fenton prepares a grocery order placed via SmartChoice™ at  The Open Door.