Our Story
OUR MISSION
The mission of The Open Door is to alleviate the impact of hunger in our community.
To accomplish our mission we use a variety of practical strategies to connect people to good food, advocate on behalf of those in need, and engage others in the work of building food security.

Our Impact
You made a difference in 2022!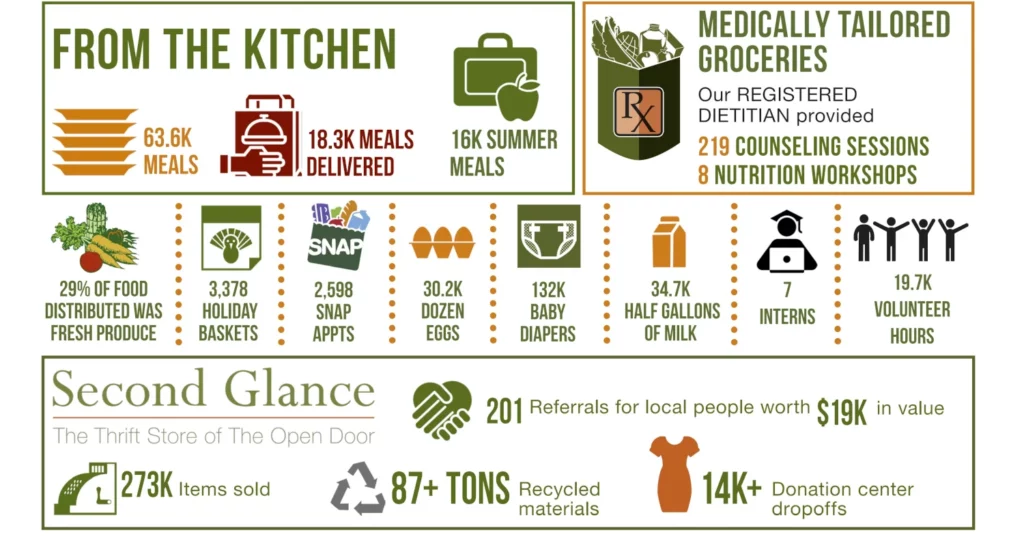 Our Team
President & CEO
Julie Hazen LaFontaine
978-283-6776 ext. 200
Food Acquisition and Distribution Manager
Gary Sprague
978-283-6776 ext. 207
Board of Directors
Chris Barker, Chair
Tracy Davis, Vice Chair
Dennis Doolin, Treasurer
Irene Josephson, Clerk
Jason Andree, Director
Tom Cronin, Director
German Disla, Director
Rebecca Fortado, Director
Vicki Godfrey, Director
Kerry McKenna, Director
Brandon Pratt, Director
ANNUAL FACT SHEETS
OUR GROWTH
Feeding people and changing lives for four decades.
Jun 1978
Food Pantry Forms
Cape Ann Food "Bank" forms with leadership from Action Inc., Rockport Congregational Church, and Cape Ann Interfaith Commission.
Jun 1978
Apr 1983
The Open Door Forms
The Open Door, a Place of Hospitality Inc. forms under the leadership of Wellspring House Inc.
Apr 1983
Jan 1985
The Open Door Joins the Greater Boston Food Bank
Our partnership with GBDB allows us to receive and distribute USDA Commodities.
Jan 1985
Jul 1986
The Open Door merges with Cape Ann Food "Bank."
Jul 1986
Mar 1993
We Move to 28 Emerson Avenue in Gloucester
Our new home allowed us to expand our pantry operations and begin planning to offer on-site meals.
Mar 1993
Jun 2001
The Open Door HOLDS ITS First Empty Bowl Dinner
Jun 2001
Jul 2002
Summer lunch program launches at Riverdale Park and Willowood Gardens
Jul 2002
Nov 2002
Holiday Meal Basket program Launches
Formerly Turkey Dinner Baskets, we offer baskets for Thanksgiving and Holiday meals.
Nov 2002
Jul 2003
Summer Meals for Kids Launches
Program grows to meet need from 2 to 21 sites to provide free meals to children (18 and under) during the 10 weeks of summer vacation.
Jul 2003
Oct 2003
SNAP Advocacy Assistance Begins
We begin offering Food Stamp (SNAP) application and advocacy assistance. In 2017 we earned a 95% approval rating from Department of Transitional Assistance.

Oct 2003
Nov 2003
Job Training program and community service program formalizes.
Nov 2003
Dec 2003
Second Glance relocates to present address at 2 Pond Road
Dec 2003
May 2004
Food Rescue Program formalized
May 2004
Mar 2005
Mobile market Launches
Mobile Market, a free farmers' market for low-income households, launches at Riverdale Park.
Mar 2005
Feb 2006
Mobile Market Opens new site at Willowood Gardens
Feb 2006
May 2007
Mobile Market GROWS to meet needs
Mobile Market adds 9 new sites between 2007 and 2015, including schools, senior centers, and a 2-year temporary site for homeless families living in motels on the North Shore.
May 2007
Apr 2010
Food Pantry purchases 28 Emerson from Wellspring House Inc.
Nutrition Department expands with Garden Project, cooking classes and Taste Tests. Prescription Food Bag launches with Addison Gilbert Hospital.
Apr 2010
Jun 2011
Good Food Box Launches
Now called Maridee's Good Food Box, this program helps vulnerable populations better manage health conditions and diet.
Jun 2011
Apr 2012
The Open Door Launches Three New Programs
Nutrition guidelines and training for volunteer catering groups;
Fruit & Vegetable Campaign launches with gluten-free products;
PowerSnack, an after-school supper program.
Apr 2012
Jan 2013
Second Glance Expands
This expansion included retail, processing areas, Furniture Annex and our donation center.
Jan 2013
Mar 2014
Family Supper opens on Tuesday nights.
Mar 2014
Jul 2015
Pantry Operations Expand
2,000 square foot warehouse expansion and Gloucester Pantry reconfiguration for Client-Directed Trauma-Informed Care service.
Jul 2015
Feb 2016
Ipswich Pantry Services Launch
All volunteer Ipswich Food Pantry merges with The Open Door and forms our new satellite Ipswich Community Food Pantry at Agawam Village to expand service area from 5 to 10 communities.

Feb 2016
Mar 2016
More Services Added for Families in Need
We added diaper bank and a menstrual hygiene products in partnerhip with Period Partners.
Mar 2016
Aug 2017
The Open Door Continues to add new Services
Mobile Market opened two new school sites at North Shore Community College in Danvers and Winthrop Elementary School in Ipswich.

The On Your Mark! Workforce development program for young adults (ages 16-21) launches.

We hired our first Registered Dietitian to expand health and nutrition, offers nutrition counseling and workshops.
Aug 2017