Each year, The Open Door recognizes volunteers and community partners for their outstanding commitment to hunger relief so our neighbors are fed.
The following individuals and organizations have gone above and beyond to help their neighbors and ensure people in Gloucester, Rockport, Essex, Manchester, Ipswich, Topsfield, Hamilton, Wenham, Rowley and Boxford have consistent access to good, healthy food. While The Open Door is unable to hold an in-person event for Autumn Breakfast this year due to the pandemic, during which award winners are typically recognized, awardees are being honored here on our website and will receive their award plaques individually.
Helen Muise Community Service Award
Mari Bergeron, Jessica Lanier, Rosemary Gibbons and Lisa Alcock
This award is named after Helen Muise who was a faithful volunteer until she lost her battle with cancer in 2002. She ruled the kitchen with a big wooden spoon and ninety-eight pounds of determination. The recipient(s) of this award must have volunteered more than 40 hours in the last 12 months, and must possess the qualities of service that we so fondly remember of Helen.
This year the award will honor four outstanding volunteers.
Mari Bergeron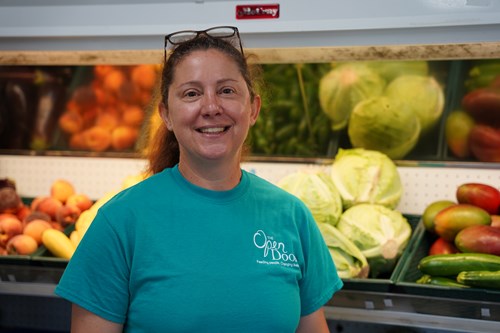 When The Open Door put out a call for volunteers at the start of the pandemic, Mari Bergeron stepped up. She'd previously volunteered in the Gloucester Food Pantry at the counter where clients picked out their groceries, and returned to volunteer when the pandemic hit, knowing the need for food assistance would be significant amid COVID-19. She's been volunteering regularly since then, primarily in the Fulfillment Center. She's the Senior Director of International Content Licensing at EBSCO Information Services. Pre-pandemic, she traveled regularly, but now works from home.
"When COVID started I was on the list when the call went out. I knew there was a lot of need and wanted to help because I could," Bergeron said.
"Working in the Fulfillment Center, even though I didn't get the same client interaction as I did volunteering pre-pandemic, I was happy just to have interactions with volunteers and staff, and in this time of helplessness and fear I was at least doing something good,"she said.
Bergeron continues to volunteer for a weekly shift packing grocery orders for pick-up or delivery in the Fulfillment Center, and she also picks up grocery delivery shifts as needed.
She says the sense of community among staff, volunteers and clients is what has kept her involved with The Open Door.
Distribution Programs Coordinator Katherine Aparo Rask nominated Bergeron for the award.
"She's really good at organizing information in a way that is efficient. She's also awesome at prioritizing," Aparo Rask said. "When we're super busy and shorthanded, she'll come in, look around and immediately pick up the most important thing without being told. She's also a natural leader, and brings a vibrant, kind, thoughtful, helpful energy."
Jessica Lanier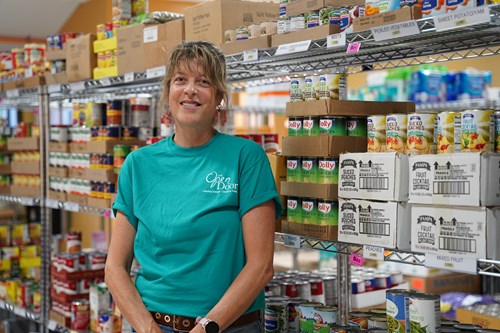 Jessica Lanier started volunteering with The Open Door in February 2021. Retired after having worked in both the film industry and as an Art History professor at Salem State University, Lanier felt she had time to give back meaningfully, especially considering the need for hunger assistance spurred by the pandemic.
"I feel it is so relatively easy for me to give back at this stage of my life…I think to give your time is the most valuable thing because nobody has enough time," Lanier said.
Food Acquisition and Distribution Manager Gary Sprague nominated Lanier for the award.
"Jessica is another new volunteer that came with the pandemic," Sprague said. "She's willing to do absolutely anything on a moment's notice. She excels in helping in the Fulfillment Center. She is someone who helps us hone our operation. She comes in planning to experience no down time. She goes out of her way to find stuff to do."
Hunger relief is a cause near to Lanier's heart, as her brother has schizophrenia and has utilized the local food pantry in his region (he lives outside of The Open Door's service area). She notes that the range of choice and healthy options she sees at The Open Door is not available at every food pantry, and that she values The Open Door's prioritization of those options.
"I leave here feeling like I did something meaningful,"Lanier said. "I just love it here. I'm going to volunteer forever."
Rosemary Gibbons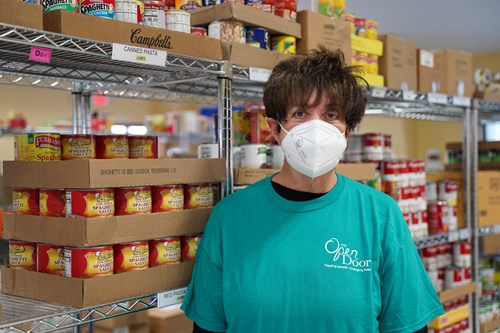 Rosemary Gibbons has volunteered with The Open Door for about six years, cumulatively. Most recently she has volunteered in the Fulfillment Center, packing groceries for clients picking-up or receiving deliveries.
She says her parents instilled the value of giving back early on in her life.
"I volunteer in other places in the community as well, and I believe in volunteering. I think it allows a person to know what is really going on in the community, and a little bit of what's going on in the world," she said.
She added that The Open Door helps people in their time of need.
"That's why food pantries exist," She said. "To give people a hand at very difficult times in their lives."
Gibbons also stresses that meeting and having Val and Fred Johnson, who regularly serve during the same volunteering shifts, as her teammates has been rewarding in many ways. She says they are the best.
Distribution Programs Coordinator Katherine Aparo Rask nominated Gibbons for the award.
"She prompts us to check her work to make sure she's doing well, which is something that's kind of hard to find in a volunteer. She's just fun for the team. She matches people's pace, keeps things fun, but checks other people's work too," Aparo Rask said.
Aparo Rask says Gibbons has also helped identify ways to streamline and improve processes as well.
"She's great for helping us get our ducks in a row," Aparo Rask said.
Lisa Alcock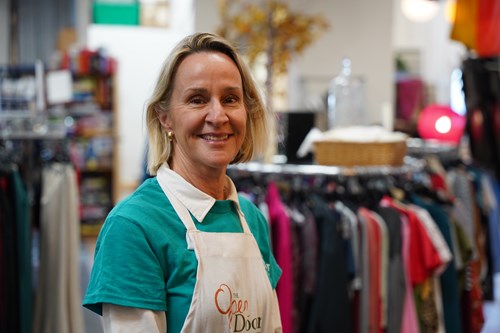 Lisa Alcock has been volunteering at Second Glance since 2015—she says she likes to be on the ground at the organizations she donates to.
A retired High School English teacher, this summer she found herself tapping into her skills as an educator to support a F1rstJobs grant recipient, a recent high school graduate with autism spectrum disorder who spent about 15 hours a week at Second Glance.
"He needed a lot of support," Thrift Operations Director Susan Zwart said. "She was a godsend. She was a teacher, and she knew how to motivate him and help him to accomplish tasks. They built a rapport. She would prepare things for him and check in on him. On top of being a regular volunteer, she cared to make sure his experience was a good one. She just jumped in and was totally dedicated. It was above and beyond what volunteers normally do."
"It was really nice and unexpected," Zwart added.
For Alcock, it was an opportunity to use her skills to benefit an organization she's deeply invested in, while helping a young student gain experience and returning to her roots in education.
"For me, that was really fun, to return to that mentoring role," she said.
She stresses that it's the community at Second Glance, the staff, volunteers, patrons and donors alike, that make it a special place. Further, the store makes a direct impact in fighting hunger by supporting programs of The Open Door.
"What donors realize is: the funds that come out of the store make a huge difference on the streets of Gloucester," Alcock said.
"That's what makes this place even more special," she added.
Charlotte Pope Award
Kent Knight
When Charlotte Pope retired from teaching in the late '70s she volunteered at the food pantry, the schools, and at The Open Door Meals. She believed helping others was just the right thing to do, and it was a way of giving back to the neighborhood that helped take care of her and her siblings when she was growing up after her mother died. She knew more than anyone what it means when someone says, "It takes a village…"
The award is given each year to a volunteer or volunteers who live out this principle in their deeds and actions.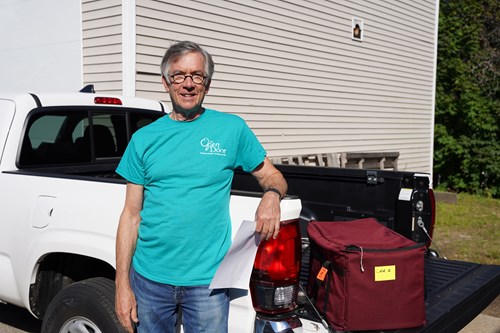 Kent Knight and his wife, Lisa Soli, moved to Gloucester after retiring in 2013. When Soli passed away from ALS at the age of 58 in May of 2020, Knight started volunteering at The Open Door.
He knew there was a need for food assistance as a result of the pandemic, and started delivering groceries. Knight also fills in when needed in the Fulfillment Center, and will take on extra delivery shifts.
"Well, it's just about trying to help people in need," Knight said. "Especially during the pandemic, when people were out of work and couldn't be as mobile as they used to be. I've gotten to know the program here and how many people get served, and it's very worthwhile. I'm also retired, so it's a grounding experience."
"It's fulfilling for me to have something I can do every week and feel good about what I am doing," he later added.
For Knight, the community at The Open Door has also been a meaningful part of his volunteering experience.
Food Acquisition and Distribution Manager Gary Sprague nominated Knight for the award.
"Kent Knight has been an amazing addition to our volunteer roster," Sprague said. "Kent was a solid anchor on the grocery packing team on our busiest production day. Kent never misses his reoccurring shift in the Fulfillment Center and additionally signs up for one or two delivery routes each week. It's also common for Kent to double down on delivery routes on a moment's notice when another volunteer suddenly needs to be away."
Unsung Heroes
Pat & Tom Cronin
Each year, the Unsung Hero award recognizes a volunteer or volunteers who have gone the extra mile, often taking on responsibilities beyond those typically assigned to a volunteer, in order to make a profound impact. This award recognizes those who are often behind the scenes, putting countless hours into their service to help us connect more people to good, healthy food.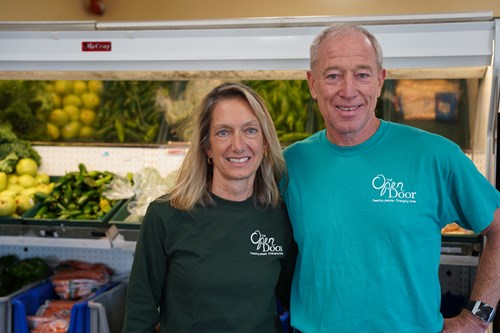 When COVID-19 hit, The Open Door needed teams of two for deliveries: a driver and a delivery person. Pat and Tom Cronin signed up together, and Pat continues to deliver groceries and meals twice a week. Pre-pandemic Pat volunteered in the food pantry to check-out clients and help them with their groceries. She also occasionally volunteered in the kitchen preparing Community Meals, and helped with Summer Meals for Kids. Always flexible and available-even at a moment's notice,–Pat has volunteered for five years.
"I think in the beginning, we were all feeling helpless about the whole situation with COVID. It was nice to feel like you were making a difference and improving someone's life in a small way," Pat said. "The clients are just so grateful, still, after so many months."
In September 2020, Tom got even more involved—having owned and run businesses with Pat, he told leadership at The Open Door he was willing to help with complex analysis and other tasks. For about ten months, he put countless hours into helping The Open Door research and implement SmartChoice ™ at The Open Door, which launched this June.
"Pat and I don't have full time jobs, and actually feeling like you're being helpful in some way is a really fulfilling thing. It did feel like there was an opportunity to be helpful," Tom said.
"The big thing is, we have a tremendous admiration for what The Open Door staff does, and we understand there are more things for them to do than they can possibly do in a day, a week, a month," Tom later added.
Pat and Tom also stressed how programs at The Open Door are the community's "safety net" and ensure no one falls through the cracks.
"Pat and Tom are truly a special couple, who have gone above and beyond to help their neighbors," President and CEO Julie LaFontaine said. "They've delivered meals, and helped us implement a food ordering system that has changed the way we operate—for the better. We're able to feed more clients, with more options available, than ever before thanks to the system Tom helped us implement. During this pandemic it is people like the Cronins who have truly shown what tremendous character and heart they have."
Sustainability Partner of the Year
Rockport Mortgage Corporation
The Sustainability Partner of the Year Award seeks to recognize an organization that has demonstrated a desire and commitment to help sustain relationships and hunger relief programs, with the knowledge that this is a key step in to secure consistent access to good, healthy food for those in our communities in need of a little extra help.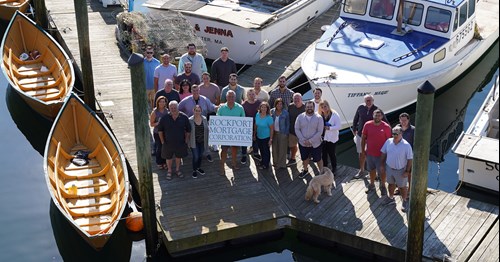 Rockport Mortgage Corporation has been a long-time supporter of The Open Door but kicked it up a notch when the pandemic started. Since then, every other Friday, The Open Door has been able to serve fresh fish from local business Fisherman's Wharf Gloucester thanks to Rockport Mortgage Corporation's sponsorship of the biweekly meals. The local haddock has become a standout favorite among clients, many of whom look forward to it.
Rockport Mortgage is a national multifamily lender with a significant amount of the organization's work focused on financing affordable housing. For 11 years, Rockport Mortgage Corporation has supported the mission of The Open Door, and has made a direct impact to alleviate the impact of hunger locally.
"Because of what we do on a daily basis, we are keenly aware that the rising cost of housing, whether through ownership or renting, can have a significantly negative impact on an individual's, or family's, ability to put food on the table," said Rockport Mortgage President Dan Lyons. "Rockport Mortgage truly values the impact that The Open Door has and we look forward to continuing our support for many years to come."
Rockport Mortgage, and its employees, support more than 40 charitable organizations and causes annually, many of which are locally based.
"Rockport Mortgage understands the value of community and neighbors helping neighbors, and their continued support has helped us keep local people fed with good, healthy food for more than a decade," President and CEO Julie LaFontaine said. "The biweekly meals with fresh, locally caught fish they sponsor are such a joy for our clients—this is a proud fishing community and having that represented in our regular menus is truly special."
Outstanding Community Partner Award
Institution for Savings
The Outstanding Community Partner Award is given each year to an organization that has taken extraordinary steps to make a meaningful impact for their community. Those that receive this award have demonstrated that helping one's neighbors is more than a gesture of kindness and generosity, but also deeply integrated into the philosophy and values of their organization.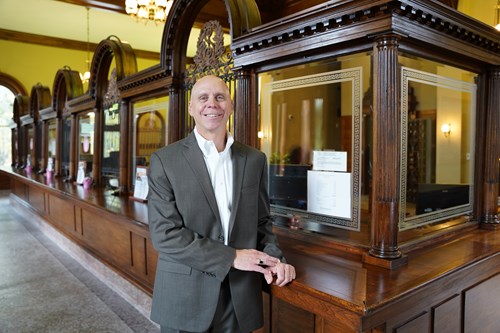 Institution for Savings has had a long and hands-on role in supporting The Open Door's efforts to alleviate the impact of hunger. Along with ongoing financial support from programs to capital campaigns, pre-pandemic, staff at Institution for Savings participated in corporate engagement at The Open Door, from preparing Community Meals to participating in annual bowl paintings for the Empty Bowl Dinner event, and holding food drive collections at their local offices.
"It is an honor to be recognized by The Open Door with the Outstanding Community Partner Award," said President and Chief Executive Officer Michael J. Jones. "The critical work that the employees and volunteers of this impactful organization do every day to ensure that every person across our region has the food and services they need to thrive is inspiring. We look forward to many more years of partnership and thank you for this recognition."
Institution for Savings strives to have a positive effect on every person, business, and organization within its communities, and believes there is no more critical way to do that than to provide food security. The Open Door is one of nearly two dozen North Shore non-profits the organization support annually that work to ensure every person across the region has access to food when and where they need it.
"Institution for Savings has always been an exemplary Community Partner and their support of our work has had a real and direct impact in connecting local people to good, healthy food," The Open Door President and CEO Julie LaFontaine said. "We deeply value their commitment to positively effecting their community and are incredibly grateful for their kind support of The Open Door. They have truly made a difference in fighting food insecurity in our region."