How YOU Can Help Local Families
Go Hunger-Free
No one should ever have to worry where their Thanksgiving meal, or their children's, is coming from. This holiday season, don't let hunger stop your neighbors from enjoying a meal with their loved ones.
"As we all look toward the holidays, the idea of local families worrying about how they can put food on the table at all is heartbreaking," President and CEO Julie LaFontaine said. "The programs and services at The Open Door help keep households stable throughout the year, but we need your extra help to make sure every family that needs a Holiday Basket this year will receive one."
The Open Door's annual Holiday Basket program provides local households with the food needed to prepare a meal at home, allowing people to keep their own traditions during the Thanksgiving and December holidays. Holiday Baskets include a 14–16 pound turkey for Thanksgiving (ham or equivalent for December holidays), gravy mix, dinner rolls, stuffing mix, cranberries, apples, carrots, squash and potatoes.
DONATE: To support families and seniors through the Holidays and beyond. Just $30 provides a household with a Holiday Basket. To donate to the Holiday Baskets program and hunger relief efforts in your community, click here. To donate by check: make the check payable to: The Open Door, and write "turkey" in the memo line. Checks may be mailed to The Open Door at 28 Emerson Avenue, Gloucester MA 01930.   
VOLUNTEER: Volunteer opportunities will be available to distribute the Thanksgiving Holiday Baskets on Saturday, Nov. 20. Those who have volunteered previously and have an account through VolunteerHub will be able to view shifts for Thanksgiving Holiday Basket distribution this week. Those without a VolunteerHub account and those who are new volunteers can contact The Open Door Engagement Coordinator at volunteer@foodpantry.org or call 978-525-8616 to sign-up. While no onboarding is required, all volunteers will need to be vaccinated against COVID-19 and wear a mask while volunteering.
NEED A HOLIDAY BASKET? Sign-ups are open for Thanksgiving Holiday Baskets. To sign-up call us at 978-283-6776. Pick-up times are available in Gloucester and Ipswich on Saturday, Nov. 20.
December Holiday Basket pick-up times will be posted when available. Holiday Baskets will be distributed during the week of Dec. 20 for the December holidays.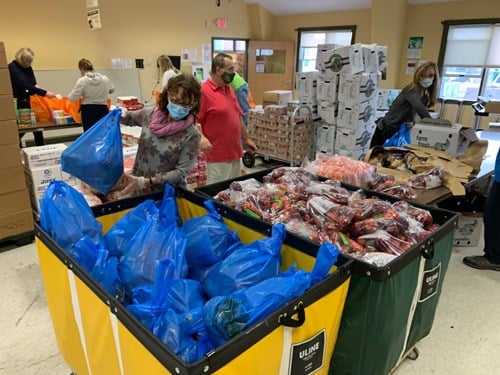 Holiday Basket program volunteers busily at work in 2021.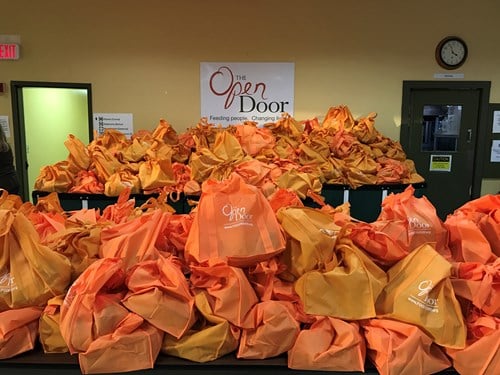 The Open Door distributes more than two thousand Holiday Baskets each year.