The holiday season often brings with it a variety of sugary and rich foods, but for parents and guardians looking for healthier alternatives, The Open Door has you covered. There are plenty of tasty, healthier holiday recipes children will love, many of which also offer a fun activity when you make them together (see the veggie platters and Grinch themed fruit skewer recipes below!).
See the following recipes for healthy, festive, and kid-friendly options this holiday season: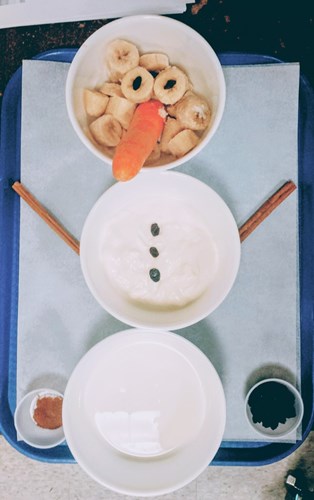 Snowman Smoothie
Ingredients:
2 Medium Frozen Bananas (peeled and cut into chunks before freezing)
1 cup milk
1 cup plain or vanilla yogurt
1 carrot, peeled
¼ cup raisins or chocolate chips
2 tsp. Honey or maple syrup
½ tsp. Ground cinnamon
Instructions:
Optional: place your banana, milk, and yogurt into three separate bowls and line them up like a snowman, for effect.
Place all ingredients into a blender and blend until smooth.
Sprinkle cinnamon on top of each serving. Enjoy!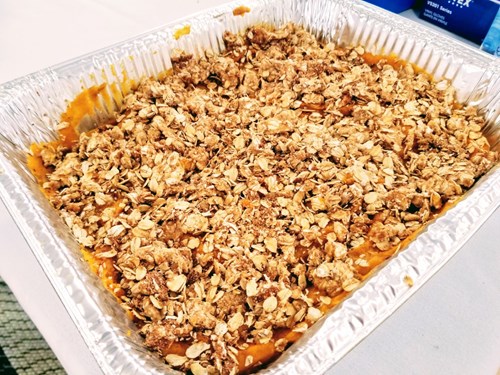 Healthy Sweet Potato Casserole
Ingredients:
2 lb Sweet Potatoes
1 cup unsweetened apple sauce
3 tbsp. Butter or coconut oil
2 tsp. Ground cinnamon
1 tsp. Salt
Pinch of nutmeg
Oat Topping Ingredients:
¼ cup butter
1 cup oats
¼ cup brown sugar
1 tsp cinnamon
Instructions:
Preheat oven to 450 degrees Fahrenheit.
Wrap sweet potatoes in aluminum foil.
Bake sweet potatoes for 1-1.5 hours, until soft.
When ready, remove sweet potatoes from the oven. Cut them in half and allow them to cool. Reduce oven temperature to 375 degrees Fahrenheit.
Once safe to touch, remove sweet potato skins and place them in a blender or food processor. Blend until smooth.
Add the unsweetened applesauce to the blender, and blend again until smooth.
Add 3 tbsp. Of butter or coconut oil, 2 tsp. Of cinnamon, salt, and nutmeg. Blend until combined.
To make your oat topping, cut ¼ cup of butter into small pieces. Add your oats, brown sugar and cinnamon. Using clean hands or a pastry cutter, crumble the butter into the oat mixture until combined.
Pour the mixture into a 9" baking dish. Sprinkle with topping.
Bake at 375 degrees Fahrenheit until topping is browned and the sweet potatoes begin to bubble slightly (about 25-30 minutes).
Let cool for 10 minutes before serving. Enjoy!
Recipe adapted from joyfoodsunshine.com.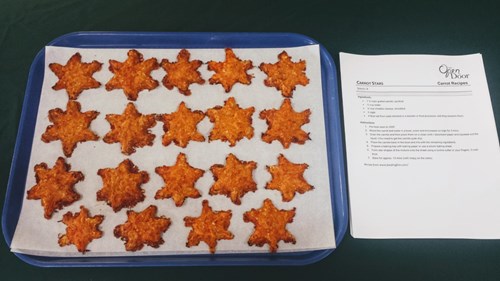 Carrot Stars
Ingredients:
1 ½ cups grated carrots, packed
½ cup water
½ cup cheddar cheese, shredded
2 eggs
4 tablespoons oat flour (oats blended in a blender or food processor until they become flour)
Instructions:
Preheat oven to 350 degrees Fahrenheit.
Put the carrots in a microwave safe bowl and add water. Mix and cover with a paper towel.
Microwave for 3 minutes on high.
Drain the carrots and place them on a clean cloth/absorbent paper towel and squeeze out the liquid. Note: the carrots will need to be dry.
Put the carrots back in the bowl Add the eggs, cheese, and oat flour and mix until combined.
Place baking paper on a baking tray or use a silicon baking sheet. Form star shapes from the mixture using your fingers. The stars should be ½ inch thick.
Bake at 350 degrees Fahrenheit for 13 minutes (until the edges of the stars become crispy).
Enjoy!
Recipe adapted from www.feedingfinn.com.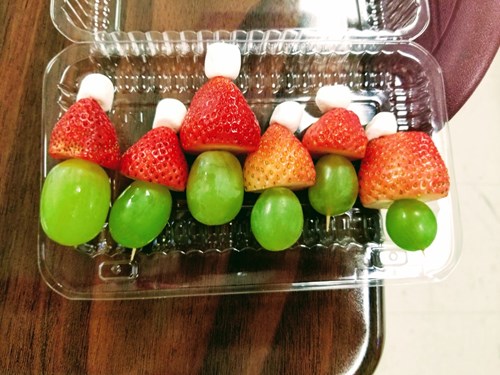 Grinch Fruit Skewers
Ingredients:
10 mini marshmallows
10 strawberries
1 banana
10 green grapes
10 toothpicks
Instructions:
Rise the fruit with water.
Cut off the green tops off the strawberries.
Slice 10 disc shaped slices from the banana.
On each toothpick, assemble your Grinch as follows:

One mini marshmallow (serves as the pom on top of his hat)
One strawberry, the pointed side facing the marshmallow (serving as the majority of the hat)
One banana slice (the brim of the hat)
One green grape (the Grinch!)

Enjoy!
Recipe adapted from: www.momables.com "Grinch Fruit Kabobs"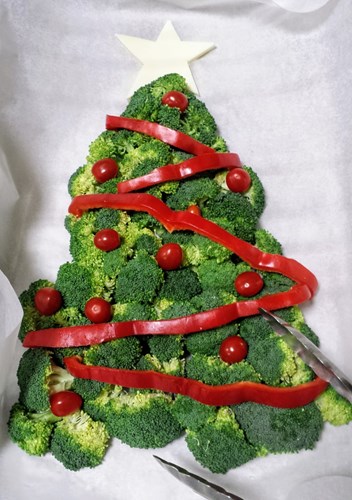 Veggie Christmas Trees
Ingredients:
2 lb fresh broccoli
1 cup grape or cherry tomatoes
1 yellow pepper
Dip of choice
Optional: pita bread cut into triangles and hummus
Optional: star cookie cutter
Instructions:
Rinse vegetables with water.
Cut broccoli into florets, and cut the pepper into strips. If desired, use your star cookie cutter to cut a "star" from the bell pepper first, which will serve as the "topper" for the Christmas tree.
Option 1: Take a cutting board and arrange your broccoli florets into the shape of a tree. "Decorate" the tree with tomatoes (ornaments) and bell pepper strips (garland).
Option 2: Spread pita triangles with hummus. Place broccoli florets on the hummus, and "decorate" the tree to create miniature Christmas trees.
Enjoy!
Recipe adapted from: somewhatsimple.com.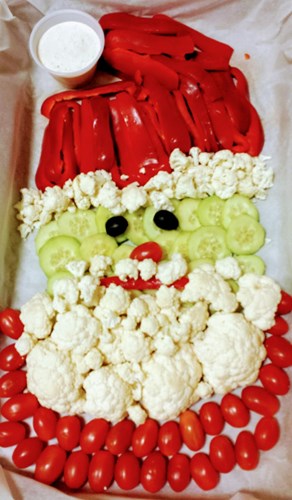 Veggie Santa
Ingredients:
1-2 cucumber
4 red bell pepper
1 cauliflower
1 pint grape or cherry tomatoes
2 black olives
½ cup ranch dip
Instructions:
Rinse the vegetables with water.
Peel the cucumber(s) and slice into discs.
Cut the bell peppers into vertical strips.
Cut the cauliflower into florets.
Arrange the cucumber slices at the center of a serving platter to create Santa's face.
Arrange a line of cauliflower along the top of the cucumbers to make the brim of his hat.
Arrange the pepper strips in the shape of a hat above the cauliflower, leaving a little room at the top for a dish of ranch dip.
Arrange the remaining cauliflower in the shape of a beard below the cucumbers.
Arrange the tomatoes below his beard to create his red coat. Use a tomato for his nose, and make a smile from a red pepper slice. Use the 2 black olives for his eyes.
Enjoy!
Recipe adapted from: www.totallythebomb.com "Santa Veggie Tray"