While Halloween is almost synonymous with candy, the team at The Open Door is pleased to share recipes for those that want to get in the spirit of "spooky season" with healthier alternatives.
"Halloween doesn't have to center around candy and sugar, which is not ideal for someone trying to stick to a healthy diet and can also be expensive," said Community Education Coordinator Rachel Orie. "There are so many fun, creative snacks to try, made with healthy ingredients, that kids will love. Making the recipe is half the fun, so it's a great activity for children as well."
Continue reading for healthy Halloween recipe inspiration:
Snacks
Jack-O-Lantern Clementines (or Oranges)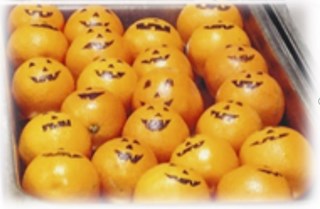 Ingredients:
Clementines or Oranges
Instructions:
For this fun treat, take your clementines or oranges, and draw Jack-O-Lantern faces on your unpeeled fruit with a sharpie. This recipe is great for parents and guardians looking for creative school snack ideas that transport easily. Enjoy!
Boonanas (Banana Ghosts)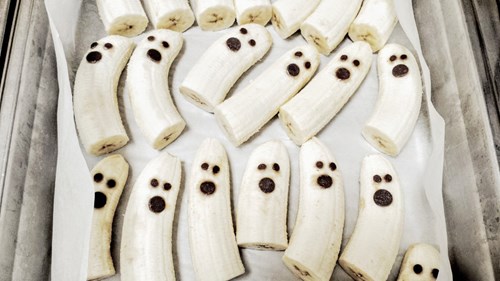 Ingredients:
Bananas
Mini Chocolate Chips
Regular Sized Chocolate Chips
Instructions:
Peel a banana and cut it in half. Press two mini chocolate chips into the top of the banana for eyes, with the pointy side of the chocolate chip pressing into the banana. Add one regular sized chocolate chip below the eyes to create a mouth. This recipe also works well for a school snack. Enjoy!
Apple Monster Mouths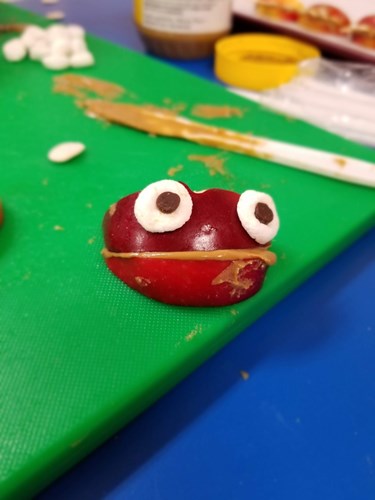 Ingredients:
Apple (1 Apple Will Make 8)
Nut/Seed Butter of Choice
Pumpkin or Sunflower Seeds
Mini Marshmallows
Mini Chocolate Chips
Instructions:
Wash and dry your apple. Cut it into quarters, remove the seeds, and then cut each quarter in half, to make 8 sections. Each 8th will be one mouth. Cut each 8th in half to make two "lips."
Spread nut/seed butter onto the white inside surface of each "lip", then stick in your "teeth" to the bottom "lip" and then add the top "lip."
For the eyes: cut a mini marshmallow in half, and the cut sides will stick to the apple. Press in mini chocolate chips for the pupils. Enjoy!
Apple Jack-O-Lantern Pops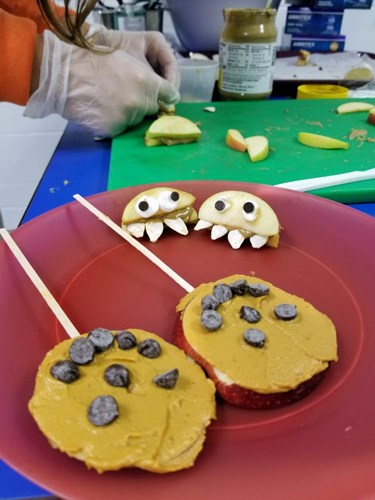 Ingredients:
Apples
Chocolate Chips
Nut/Seed Butter of Choice. (Add pumpkin puree and honey to make a tasty pumpkin spread!)
Craft/Popsicle Sticks (Optional)
Instructions:
Wash and dry your apple(s). Cut them into 1/4 inch slices vertically, so that you get round pumpkin-like slices (see above picture for reference).
Stick a craft/popsicle stick into the base of each "pop" (it helps to carefully puncture the skin with the tip of a knife first).
Spread the face of the apple slice with your spread of choice. Decorate with chocolate chips like a Jack-o-Lantern, and enjoy!
Note: this recipe may not transport as well as those above in a lunch box, but make a fan-favorite at-home snack and are a great alternative to caramel apples.
Eyes of Newt (Festive Deviled Eggs)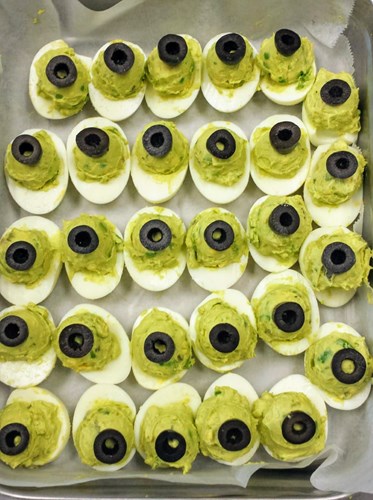 Ingredients:
12 hard boiled eggs, peeled
Ripe Avocado (or green food coloring and mayonnaise)
Salt & Pepper to Taste
1-2 Tsp. Lemon Juice
1 Tsp. Dijon Mustard
Black Olive Slices
Optional: Beet Juice or Red Food Coloring (for "bloodshot) eye look)
Instructions:
Carefully cut the hard-boiled eggs in half lengthwise, and scoop out the yolks into a bowl. Arrange the whites cut-side up on a plate. Mash the yolks with the avocado, salt & pepper, lemon, and mustard until smooth, adjusting seasonings to taste. With a spoon, cookie scoop, or piping bag, fill the holes in the egg whites with the green yolk mixture. Top each one with a slice of black olive to complete the "eye" look.
If desired, you can create a "bloodshot" look by streaking on beet juice or red food coloring with a toothpick.
These creepy little peepers are a great high-protein snack that you could pop into a lunchbox or make a platter for a party. They'd also make a good snack for a pre-trick-or-treating energy boost. Enjoy!
Veggie Skeletons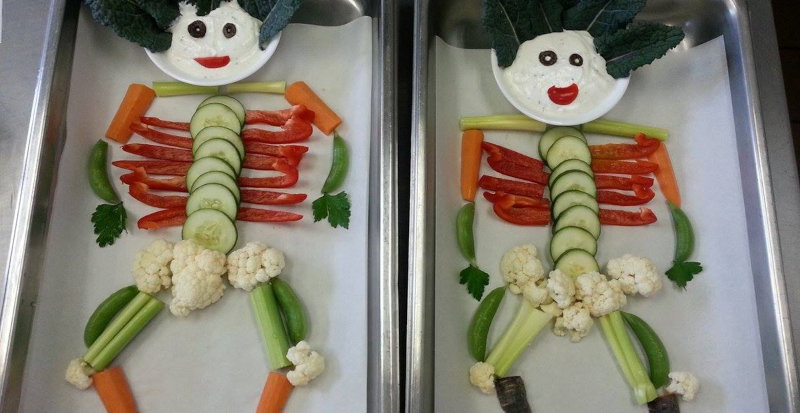 Ingredients:
Ranch Dressing (1 Cup)
Black Olive Slices
1 Cucumber
Cauliflower florets
Sliced Mushrooms
Carrot Sticks
Celery Sticks
Snow/Snap Peas
Red Bell Pepper
Broccoli Florets
Cherry Tomatoes
Please note: plan ahead for your veggie skeleton and be creative! Above is a list of ingredients we've used at The Open Door. You may want more or less than what we've listed above, or different ingredients. Part of the fun is creating your own skeleton.
Instructions:
For the head/skull, fill a small bowl of ranch dressing. Use black olive slices to fashion eyes. Slice your cucumber and lay down the slices below the skull to create a spine. Use cauliflower florets or sliced mushrooms to create the pelvis. Take carrot sticks, celery sticks and snow/snap peas to create the arm and leg bones. Cut your bell pepper into strips, and lay them down to create ribs. Take cauliflower, broccoli or cherry tomatoes to create hands and knees. For the feet, consider using leftovers from the arms, legs and hands, or get creative!
This recipe works well for family gatherings as an appetizer. Enjoy!
Bonus: Dinner Recipe
Spooky Shepherd's Pie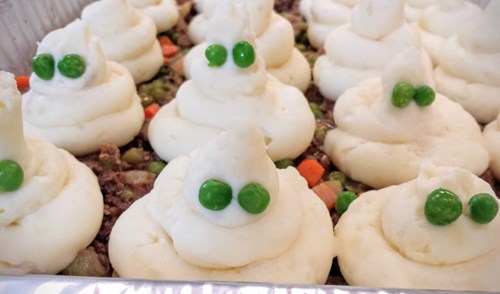 Ingredients (for 6 servings):
1 lb. Ground Beef
1/2 Onion, Chopped (or 1/2 Tsp. Onion Powder)
1 Clove Garlic, Minced (or 1/4 Tsp. Garlic Powder)
Salt & Pepper
1/4 Tsp. Dry Thyme
1/4 Tsp. Dry Mustard Powder
1 Tsp. Paprika
2 Tsp. Worcestershire Sauce
2 Tbsp. Tomato Paste
1/4 Cup Water
1 lb. Frozen Mixed Veggies
1/4 Cup Frozen Peas
1 1/2 lb. Potatoes
Butter
Milk
Instructions:
Preheat the oven to 350 degrees Fahrenheit.
Peel and cut the potatoes into quarters. Place them in a pot, cover with water, add some salt, and bring to a boil. Reduce to a low boil and cook for 15-20 minutes, until tender.
While the potatoes cook, brown the ground beef in a skillet. If using fresh onions and garlic, add to the beef while it cooks. Once the meat is browned all the way, add the seasonings, Worcestershire sauce, tomato paste and water, and stir to combine. Simmer for 5 minutes. Mix in the frozen veggies, and continue to cook until thawed. Spread into a baking dish.
Once the potatoes are cooked, drain them and mash with butter and milk until smooth. Season with salt to taste. Scoop (or pipe) onto the meat mixture, forming a field of ghosts! Add peas for eyes, then bake for 15 minutes, or until lightly golden. Enjoy!
Variation: Cook sweet potatoes separately, and mash them to make some "pumpkins" along with your ghosts! (Use small celery sticks or parsley stems for the stems).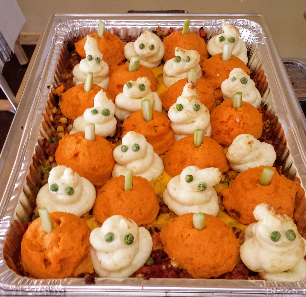 Do you have your own favorite healthy Halloween recipe? Please share it with us! Tag us on Facebook or Instagram @TheOpenDoorMA.