Looking to try new, healthy recipes? Welcome to Build-a-Meal, The Open Door's answer to Blue Apron, to help you discover meals that are good for you, your family, and your budget!
The Open Door Build-a-Meal program makes it easier than ever to experiment with new dishes, without going through the hassle of finding a recipe or sourcing the ingredients.
Each month, Build-a-Meal provides a recipe kit with all the ingredients you'll need to make the meal at home: a recipe card, step-by-step instructions, and a shopping list—for when you make the recipe again! The kit also includes all the pre-portioned herbs and spices.
"Build-a-Meal takes all the guesswork out of finding new healthy recipes to try," President and CEO Julie LaFontaine said. "Food is a common language that is understood across cultures and around the world. With Build-a-Meal, clients can try new recipes using familiar ingredients or learn how to make a tasty dish from another country."
February's Build-a-Meal kit at The Open Door features a Cabbage Roll Recipe, a cozy winter meal bursting with nutritious ingredients.
The soup is inspired by a traditional cabbage roll, which consists of cooked cabbage leaves stuffed with a filling. The filling can vary, often including meat like beef or pork, vegetables, and spices.
Click here to view The Open Door's Cabbage Roll Soup recipe.
HOW TO ORDER
Starting on Friday, Jan. 27, shoppers at The Open Door can add the Cabbage Roll Soup Build-a-Meal kit to their weekly grocery order.
To order the kit online, shoppers can select the orange "Quick Trip" button at the bottom left of their screen after logging into Online Shopping at The Open Door. Add "Build-a-Meal" to your cart, and the kit will be included with your weekly groceries for pick-up or delivery.
To order the kit by phone, shoppers can call The Open Door at 978-283-6776 when they order their weekly groceries. Request a Build-a-Meal kit while placing your order, and the kit will be included with your groceries for pick-up or delivery.
Build-a-Meal kits can be added to grocery orders in any of the communities in The Open Door service area, including Gloucester, Rockport, Manchester, Essex, Ipswich, Hamilton, Wenham, Topsfield, Boxford, and Rowley.
Order your Build-a-Meal kit TODAY while supplies last!
More information about the program, previous recipes, and a satisfaction survey are available at foodpantry.org/bam.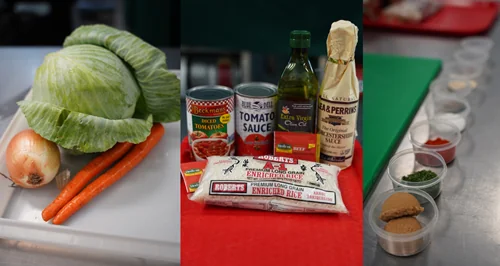 February's Cabbage Roll Soul Build-a-Meal Kit includes a recipe card, 1 pound of ground turkey or beef, green cabbage, onion, carrots, 1 can of diced tomatoes (15 ounces), 1 can of tomato sauce/pasta sauce (15 ounces), 1 pound of long grain rice, beef broth, 2 tablespoon of brown sugar, 1 tablespoon of dry parsley, 1-and-a-half teaspoons of paprika, 1 teaspoon kosher salt, ¼ teaspoon black pepper, ¼ teaspoon garlic powder, 1/8 teaspoon ground nutmeg, and 1 bay leaf.