Looking for inspiration to kick start a healthier lifestyle? Now's a great time to make healthier swaps or test out new things in the kitchen to improve your health!
Not sure where to start? Hitting a rut in your New Year's resolutions? The Open Door is here to help! See the below list from our Community Education Coordinator for easy swaps and tips for eating a little healthier in 2022:
A low-sugar and versatile staple, plain yogurt is a great go-to ingredient for dishes sweet or savory, whether you're looking for an alternative to mayonnaise in a tuna, chicken, or potato salad, or sour cream or cream cheese in a creamy dip. Plain yogurt is also great for making parfaits layered with fruit, yogurt and granola!
Look for products with fewer ingredients. For example, choose nut butters that list just nuts as their ingredients, without added sugar and oils. Unsweetened applesauce is another great swap!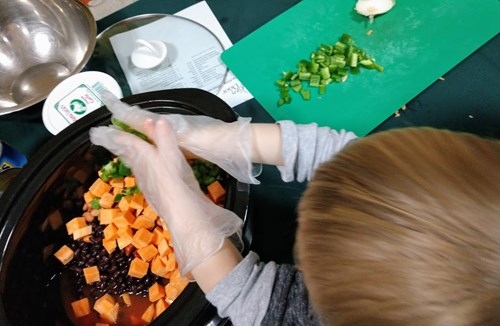 Add more vegetables. By adding more vegetables into your diet and the dishes you're already making, you can easily boost the nutrients you and your family are getting.

Incorporate vegetables like spinach, zucchini, carrots, sweet potato, butternut squash, and cauliflower that can easily blend into a dish—this tip is great for picky young ones!
Try one new vegetable a week as a family, or try preparing vegetables in new ways. For example, try vegetables steamed, sautéed, roasted, with a dressing or dip, and raw.
Planning to "go vegetarian" a few times a month is a great way to explore plant-based proteins (especially those with beans and other legumes), which can be budget-friendly and are higher-fiber alternatives. Try black bean veggie burgers, lentil tacos, vegetarian chili over rice, a stew with lots of veggies and lentils, or a stir fry with tofu or tempeh!
Try something new. Working in a new recipe is a great way to introduce healthier alternatives to your diet, and keep your meal rotation interesting. Encourage your household to brainstorm a few recipes to try.
Get the whole family in the kitchen! Cooking a meal from scratch, together, is a great way to lighten the workload of preparing meals while teaching children how to cook, getting everyone in the family excited to try new things, and bonding.
Learn how to make a favorite take-out dish at home! Cooking a meal at home is usually a healthier and more affordable way to enjoy a favorite dish.
Stay tuned for more healthy recipes, tips, and tricks from The Open Door!