Made with Care
A small, capable team of veteran staff and volunteers have kept The Open Door Community Meals program going at a robust clip this year, preparing double the number of meals distributed pre-pandemic.
For Kenn Taber, who served as the Community Meals Coordinator before COVID-19 and today is the kitchen lead, it's about making sure everyone has a good, healthy meal, every night.
"Every time I put a meal into a box, I realize it is going into the hands of someone who might not be able to provide a meal for themselves," Taber said. "That's the bottom line of the mission: feed people."
While in-person dining has not yet resumed due to the pandemic, Taber and prep cooks Sarah Columbaro and Joe Porcaro prepare daily meals that are balanced, diverse, and made with heart. Since September, the team has been joined part-time by renowned local chef, Ken Duckworth, who prepares signature dishes like empanadas and focuses on Healthy Choice Easy Choice options.
Since 2014, the Healthy Choice Easy Choice initiative has transformed less popular and oversized veggies into family-friendly nutritious meals, both partially and fully prepped.
"This is the only job I've ever known, and to use my trade and craft in this completely different way is soul satisfying," Duckworth said. "To be able to share my knowledge of cooking to partner with what The Open Door does feels good."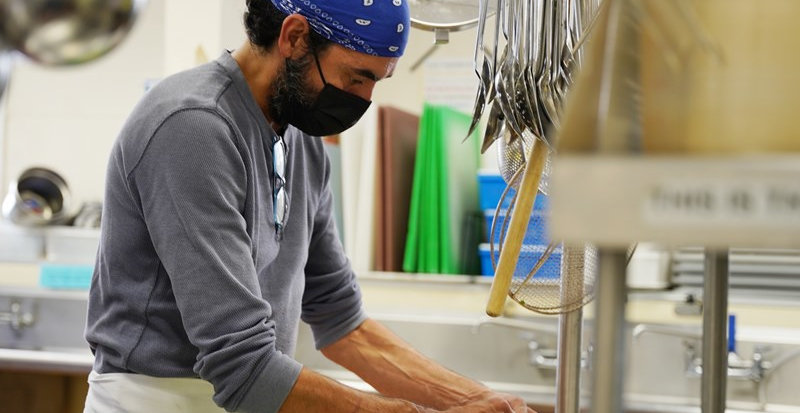 Ken Duckworth has been a member of the kitchen team since September.
Duckworth has a long history with The Open Door. For more than 10 years, he and his family have helped prepare dinner on Christmas Eve.
For Lily, 22, of Gloucester, who has severe medical conditions leaving her unable to work, programs like Community Meals offer hope during hard times. She lives with her mother and step-father.
"It's really given me a little bit of hope that we'll be ok this winter," She said. "I think knowing we'll have some sort of support through The Open Door will give us a bit more structure this winter and more of a secure feeling knowing we'll be all set with food."
The kitchen team recently welcomed back a handful of volunteers—infusing the group with a boost in spirit at seeing old friends and needed extra hands.
"The kitchen is the heart of The Open Door and volunteers are its heartbeat. Together, they provide meals that are made with care for our community. They work very hard to make each meal special, and we're tremendously proud of the food we're able to provide to our clients as a result," President and CEO Julie LaFontaine said.
Today, the kitchen prepares 160 meals per day Monday through Friday (with extras prepared on Friday to feed people through the weekend). Meals can be picked-up or delivered depending on a client's needs.
The kitchen also adopted new, degradable containers for transporting meals this fall.
In addition to preparing daily meals, the team makes meals for agency partners including weekly soups for the Rose Baker Senior Center and take-home lunches, and weekly meals for the North Shore Health Project.
Any changes or returns to in-person dining will be announced widely through The Open Door website, social media accounts (@theopendoorma on Facebook, Instagram and Twitter) and various channels.
To inquire further, call 978-283-6776.